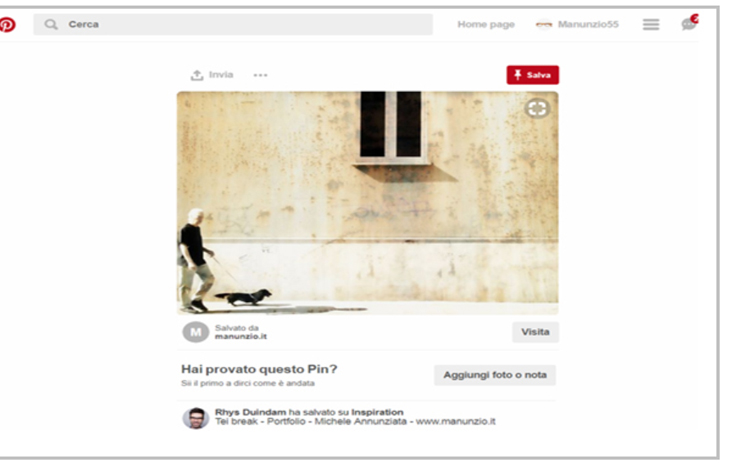 Photo © Michele Annunziata
Abstract
a my photo on web, from old site, an unexspected surprise during my searcing on Google: image appears on Pinterst and user mark it as "image of inspiration".
Backstage. In my town, a place as many others on Earth, a day I have selected during the shooting an moment of lifestyle, I would never imagined that a user later then mark it as that it "emotional".
"Deriva s. f. [dal fr. dérive; v. derivare]. – 1. Trascinamento, da parte di una massa fluida in movimento, di un corpo galleggiante o immerso in essa, rispetto a una superficie fissa (fondo marino, superficie terrestre). Con sign. specifici: a. D. marina, d. aerea, rispettivamente, lo scostamento dalla sua rotta di un natante per opera delle correnti marine e di un aeromobile per opera di correnti atmosferiche. Andare alla d., di galleggiante abbandonato alle forze dei venti e delle correnti; fig., nell'uso com., con riferimento a persona, abbandonarsi al corso degli eventi, cedere, senza capacità di reazione, a una sorte infelice."
Qui nell'accezione plurale, e nel senso di navigazione. Proprio così, o di quei arcani che ti fan imbattere in una foto, che avete dimenticato, e parte del vecchio sito.
Un uomo e suo cane dietro su muro una finestra, rimaneggiata con texture. Effettaccio oggi, col senno di poi: ma tant'è.
E sorprende che qualcuno, segnando l'immagine, ne trae motivo di "ispirazione": che dire?
Pinterest Photo
Man
Ps. Nudo e crudo la sintesi poco sopra e da Treccani. E tuttavia già da un paio di anni, una sorta di prova del nove esponenziale, su uno dei tanti siti fotografici, le immagini postate ricevono attenzione, statistica alla buona, da ogni parte del Mondo cosiddetto e con prevalenza, certo, Europa del Nord. E, quasi contraddizione, qualche lusinghiero commento, più degli uomini sono le donne. La qualcosa ci insospettisce, e non poco, nutrendo nei confronti del "gentil sesso" tutt'altro che rose e fiori, su un piano che non ha niente a che vedere (e sparte) con il letto psicanalitico. Per chi intende